Andy Vinca
Owner, Roofer
Andy Vinca started roofing in 2001. Since then he has been a part of approximately 3250 roofing jobs, both residential and commercial. As the owner, Andy spends most of his day performing supervisory duties, but he makes an appearance on site on a daily basis to make sure the work is of the highest quality. Andy is a graduate of Edinboro University, and he believes that his education has given him with the necessary skills to provide outstanding service for an affordable price in the safest manner.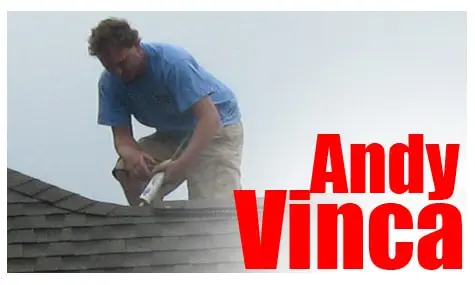 Marc Moles
Roofer, Commercial Foreman
Marc started at Angelo's Roofing and Construction Inc. in 2009. He became the commercial foreman in 2012. Marc's first roofing project with the company was at the Hampton Inn in Meadville, PA. His first foreman project was for the Salvation Army in Erie, PA. Marc's area of expertise is in rubber roofing. He does not cut any corners or short cuts and values doing things the right way. He also takes the time to teach other employees the fundamentals of rubber roofing. Once the project is complete, Andy has complete trust that Marc has done his very best and the finished project could be viewed by any as superior workmanship.